Essie Fleischer
---
Essie Fleischer



Name

Essie Fleischer
Essie Gold
Ethel Goldstein
Essie Fleischer born on the 1st of October 1885 in Whitechapel, London, England, United Kingdom was the daughter of Harris Spada Goldstein and Leah Goldstein. She later became Max Fleischer's wife and was the mother of Ruth Fleischer and Richard Fleischer. Her husband Max Fleischer was an American animator, inventor, film director and producer, and studio founder and owner of the Fleischer Studios. Fleischer, who was born in Kraków, immigrated to the United States, where he became a pioneer in the development of animated cartoons and served as the head of Fleischer Studios, which he co-founded with his younger brother Dave Fleischer. Max brought to the big screen characters like Koko the Clown, Betty Boop, Popeye, and Superman, as well as several technological breakthroughs like the Rotoscope, "Bouncing Ball" song films. Max Fleischer and Essie Goldstein were childhood sweethearts from the age of 12, when Essie's family moved in the same neighborhood in Brooklyn. She married Max in 1905, and stayed married until Max died in 1972. Her marriage to Max was long and rocky and they regularly had shouting matches. Essie had a jealous streak and would often accuse Max of showing attraction to a young woman. Max's response to the claims would be to shrug them off. Essie liked to do the Charleston, and loved to drink Scotch. Starting from Summer of 1929, she liked to travel to Europe with her children Ruth and Richard, the holiday is said to have given her an addiction to small cigarettes, and that is when she started smoking. After outliving Max, she attended her 100th birthday party at the Motion Picture County House in Woodland Hills, California. One of her presents for her 100th birthday was Scotch. Essie died in 1988 at age 103.
Creation of Betty Boop
Essie Fleischer has a small part in the creation of Betty Boop. One day she suggested the Fleischers create a girlfriend for Bimbo, which eventually lead to prototypes of Bimbo's girlfriends appearing in earlier cartoons, and eventually the debut of Betty Boop in Dizzy Dishes. It would seem that Grim Natwick reworked Essie's idea into a "Boop-Boop-a-Doop" anthropomorphic character, and when Betty Boop became a hit sensation Max and his co-workers continued to develop the character's new personality and image and she became Betty Boop the "Boop-Oop-a-Doop" Girl.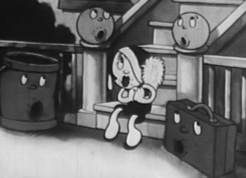 Another of Essie's ideas brought to life.
Trivia
According to her son Richard Fleischer in his book Out of the Inkwell: Max Fleischer and the Animation Revolution, Essie once attempted suicide by swallowing a bottle of iodine.
She liked to smoke pipes and cigars.
Essie was overjoyed when they moved to Miami, Florida, and she loved Miami Beach.
See Also
---